If you've been working on or researching on how to improve your site's SEO you've probably seen some information about link building.
Link building usually refers to trying to gain links from other websites to your website (these are what's referred to as external links). Generally speaking, search engines see this as a positive endorsement from the other site and therefore include the link as a positive ranking factor. 
Great, let's get some external links to my site. Sure, easier said than done a lot of the time.
While pursuing external links is a great strategy they can also be difficult to obtain. Content Marketing and blogging can create great targets for links, but the outreach takes time. While you wait, creating a good network of internal links throughout your site can also help improve your site's SEO.
What Are Internal Links?
Unlike an external link, which goes from one website to another, an internal link goes from one page on a site to another page on the same site.
There are lots of internal on this page. From the main navigation at the top of the page, to the links to blog categories in the sidebar, and the links in the footer. We've also thrown in some internal links throughout this article; so far to our SEO services page and our Content Marketing services page. 
How Do Internal Links Help With SEO?
Like external links an internal link tells a search engine that a given page is important. Also like external links the anchor text used for the link helps give search engines more information regarding what a given page is about.
For example, linking to our page with information on us being a digital marketing agency that services Melbourne not only gives that page some strength internally, it also tells search engines that it's a page about digital marketing agencies in Melbourne.
An internal link is a signal to search engines about the relative value of a page.
Equally important is that internal linking makes it easier for search engine spiders to crawl a site.
A spider crawls the web (get it?) to discover and index pages via links between pages. If a page has no links to it, it can't be discovered by search engines and can't be indexed.
Don't Overdo It
OK, so should you just make tons of links throughout your site? The short answer is "no."
Firstly it doesn't present very good user experience. Too many links can confuse users making them unsure what to click to navigate through your website.
What's more, too many links suck up all the authority a page can pass. Think about it. If I say "here's a list of my favourite restaurants in Mornington" and hand you a list of 50 restaurants, none of those recommendations have a lot of authority. If, on the other hand, that list has only 3 restaurants, you know it's actually a proper assessment.
There's no hard and fast rule here, but read on for a couple best practices.
Internal Link Best Practices
As mentioned, don't overdo it. The key to most things in SEO is to make your website for people. If it's a good site for people it's a good site for search engines. Sure there are technical aspects and formatting things like HTML headings, but if you create a user focused website the rest will follow.
With this in mind create your internal links with people in mind. This creates a natural link profile for your site, and search engines like natural. 
An example of this is the link to our HTML headings article above. As our articles are aimed at relative novices, readers may not know what an HTML heading is, so we've linked to an article on that.
Contextual Links
Going further on best practice is contextual links throughout your site. The HTML headings link above is an example of this.
Blogging helps create these links throughout your site, giving authority to articles and key pages alike.
General Site Structure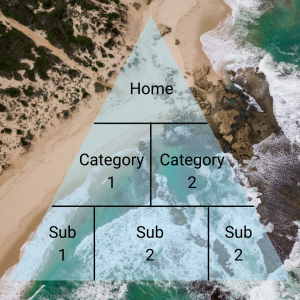 Finishing our basic best practices is probably the most important part of internal linking: site structure.
The core of your site needs to be structured in such a way that is logical and easy to crawl. Generally this means a pyramid structure with your homepage at the top, then categories, then sub-categories.
Not everything needs to be a top level page.
But Really, Make Sites For People
The core of all of this is make your site for people. Make your main navigation structure in a way that people can progress through your site. Write blog articles that will help educate your users. Link within those articles to things that will interest your users not because it will help with search rankings.
The rest will follow.